Rodrigo Matos Dressage and Working Equitation Clinic
July 6-8, San Antonio Valley Stables
1220 San Antonio Rd. Petaluma, CA
Rodrigo is a former chief rider for the Portuguese School of Equestrian art and internationally acclaimed clinician. One lesson from Rodrigo has a lasting impact.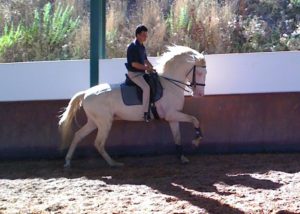 His thorough and patient training help students work on everything from basic horsemanship to refined dressage practice. He specializes in addressing specific training issues with students and horses.
Private lessons on Friday, Saturday, Sunday morning. Small group Working Equitation lessons on Sunday afternoon. $165 per ride.
Auditors welcome $35
Contact Jack Burns at J-Dot Stables.
707-239-2290