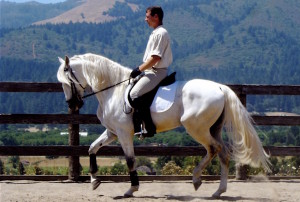 Jack's emphasis of training is in dressage. He practices a light and classical style of dressage. This practice is not just to participate in the sport of Dressage, but as the fundamental basis for all riding. Jack is also an active jumping trainer with a background in eventing. The purpose of Jack's training and riding is to bring the horse and rider together in harmony. All of his work is done in relaxation and he promotes trust with his horses.
He is always developing three principles.
The first principle is the development of each horse's natural abilities. Through a systematic and gentle approach along with a thorough understanding of the training continuum, he brings each horse along to fulfill his own potential.
The second principle is the development of the relationship between the horse and rider. He helps his students relax, acquire better balance and learn proper use of the aids. He thinks there is no limit to the refinement of the connection between a horse and his rider. His horses are always willing partners.
The third principle is to create a situation with horse and rider that is both pleasing to experience and watch. This joyful expression is always kept in mind and Jack wants his students to be inspired and happy.
For more details, please contact Jack at jburns@sbcglobal.net.