Harmony in Horsemanship
J dot stable's trainer, Jack Burns is a Sonoma County, California horse trainer who specializes in classical dressage. Jack has been a professional trainer for over twenty years. Our focus is timeless and universal principles of horsemanship to develop each horse's natural abilities and create a harmonious and dynamic relationship between the horse and the rider.
Our training develops the natural abilities of each horse as well as the relationship between horse and rider. Through a systematic and gentle approach combined with a thorough understanding of the training continuum, the horse will develop utmost physical and mental fitness. All horsemanship is based on the consistent principles of communication in order to improve mental and physical functionality. There is no limit to the refinement of these principles.
Our training creates a riding expression that is beautiful both to watch and experience. Horsemanship is an art expressed through communication, and communication is based on understanding. This expression takes shape in all ways when we are around our horses, whether we are refining a difficult movement, jumping an obstacle, or just spending time with our horses in the pasture. Above all, we must take great care of our equine partners and appreciate the joy they bring to us.
For the past several years, we have worked in clinics with Spanish riding master Manolo Mendez. Manolo's teachings have been a great fit with our approach to training and riding.
We also have monthly cavaletti clinic available for the ranch borders as well as trailer in riders and horses. Please contact us for details.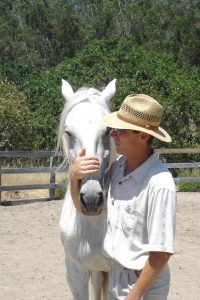 Jack is a very capable, compassionate and effective teacher for both horse and rider. ….Until we met Jack, no one had been able to train him to consistently do flying changes. Rather than force the issue and frustrate Equidor, Jack gradually introduced the flying changes in conjunction with other strengthening exercises and over the past year they've become solid.
….. While I hope these descriptions give some idea of Jack's talents as a horse trainer, the words don't capture the happiness I see on Equidor's face after his sessions with Jack; he literally beams! – Margaret *Click Here to read full testimonial fromMargaret*