On Day 2, Jack brought Equidor to work with Manolo. He is a 15 year old Hanoverian, and has been under Jack's training little over a year now. Since he had mysterious neck injury (click the link for Equidor for his story), Jack re-started him very slow.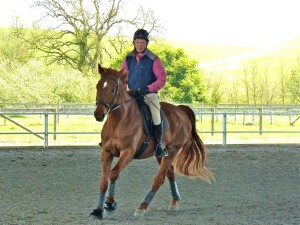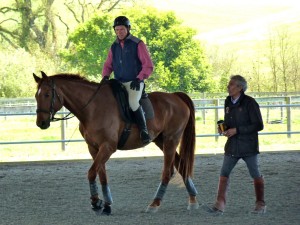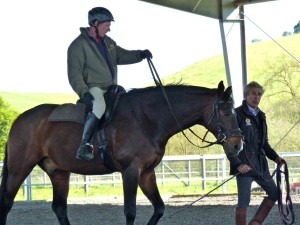 Equidor has been making fantastic progress with her adoring owner, Margaret and he actually made a sensational debut at Ram Tap 3 day eventing last weekend. Despite some unexpected obstacles, i.e., flapping flags and unforeseen event, dismount in the stadium jumping arena, right before the start line, which he was scared by moving judges in the shaded judging booth, Equidor and Jack completed the 3 phases of event safely and finished in 4th!
So here comes Equidor. Of course he was fabulous. He was very relaxed and forward. He has fantastic movements. I cannot comment on exactly what Manolo was saying since he was talking to Jack very close and I could not hear, but what I heard was that he was doing very good and every time he rides with him, his riding gets much better, according to Senior Mendez.
So the story of Equidor's recovery must have inspired Manolo to ask Jack to ride another horse later. This horse needs some rehab, I believe and Manolo wanted to see him ridden by someone else.
After longeing the horse, very tall, nice looking gelding, Manolo asked Jack to get on him while he is still on longe line.
This horse had been ridden very tight, neck high and not able to go forward. According to Jack, when he puts legs on, he just stops. But he was able to get him going with longe line as well as without longe line. His contact was minimum in the mouth also in the legs.
Another successful day with master Manolo:)
Manolo Mendez Clinic, May 2011 Equidor